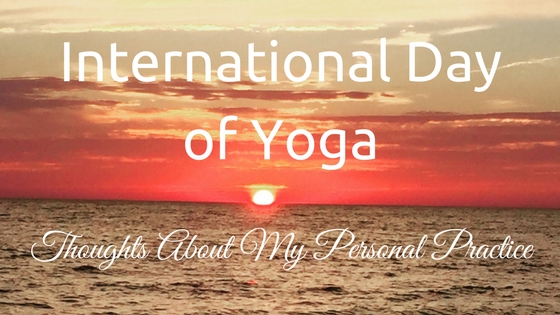 Yoga is a powerful vehicle for change.  As you build strength you start to believe in your own potential."  Tiffany Cruikshank
celebrating international day of yoga | thoughts about my own personal practice
Namaste!  It's the Summer Solstice and International Day of Yoga.  I thought I might express a few thoughts about my practice and what I've observed recently and throughout my years of practice.  I've been practicing on and off for 22 years.  I began my practice in 1995 after my daughter was born.  I needed an outlet to help relieve stress and anxiety as a new single Mom.  My commitment to the practice grows stronger each year and I've maintained a steady, consistent and regular practice for the last 12 years.  The truth is, I can't live without it anymore.  It's easy to remember to practice because it's a part of my routine.  When I get thrown off my routine and I don't practice, I notice a difference in the way I feel.  I prefer myself "on yoga" rather than off of it.
I never thought of Yoga as exercise really.  I did not come to the practice to accomplish difficult poses and I've never really challenged myself to do so.  I have learned some basic inversions because they feel so good to me, but I can't do most "advanced" poses and I'm totally okay with that!  That's not it for me.  That is not why I practice.  I practice to improve myself as a human on a spiritual journey and to connect to all that is.  To the earth, to the stars, to the elements, to all creatures and organisms, to all beings, and to cosmic consciousness.  I am so grateful to be alive and share this human experience with all of you and my practice has helped me see life for what it is.  My hope for sharing thoughts about my own practice might inspire you to dive deeper into your own practice, and perhaps you can relate to some of my thoughts posted here.
Here are a few bullet point thoughts about my own practice:
I enjoy a gentle, slow and mindful Asana practice

Slowing down in my Asana practice helps me tune into my body and mind to notice things

My practice serves me best when I take time to notice and feel how my body and mind respond to each pose and to each breath

I like to pause a lot throughout my Asana practice to notice and feel

I don't like to feel rushed when I practice so I try to give myself anywhere from 45 minutes to 2 hours when I have extra time

A full practice for me includes Asana, Pranayama & Meditation

Meditation has become the main focus of my practice lately

I've learned to modify my practice when I have limited time

I always use props in my Asana practice and enjoy finding new ways to support my practice with props

Meditation feels best immediately following my Asana practice

I love practicing at home with the company of my pets

Hot classes don't feel good to me because I have a lot of Fire in my body already

I enjoy a more physical practice in the Winter months and a more still practice in the Summer months

I love reading about and studying the science of Yoga and I do so often

I love spreading the word about the practice and how it can help everyone

I've been working on my practice off the mat more recently by being of service to others

I like to play music during my Asana practice and I like it quiet for breath work and meditation

I feel I can learn something new from every teacher, but I am my own best teacher

I enjoy many different studio classes and love to try out new teachers and studios when I have the opportunity

I enjoy online classes and workshops if I can't make it to a local studio

I've learned a lot about Yoga on the world wide web and love all the resources I've encountered electronically

I've enjoyed all the relationships I've fostered through the practice with both the teaching community and clients

I feel lucky and blessed to have found the practice and I'm grateful for the knowledge I've gained

This is a practice I can do the rest of my life and I'm committed to a life long practice

I love the way my body feels during and after my Asana practice

My practice feels different every time I step on the mat

Off the mat I'm learning to focus on awareness and mindfulness as I move about my day
I'm excited that the practice of Yoga has become common and accessible to almost everyone.  I am living proof that it works, that it is no doubt good for all of us.  There isn't anyone on this planet that would not benefit from the practice in some way.  My practice is a blessing in my life and I'm grateful to be able to share my experiences with the world here on Planet Prana!
May all beings live happy and free!  Happy International Yoga Day!
Peace & blessings,
~Zen Jenn
http://www.raoulwientzen.com/20802-buy-rogaine-online.html