Greetings fellow travelers of time and space!  
There's no place like hOMe
My hOMe is Cleveland, Ohio and it's where I've put down roots over the last 25 years.  In season 4 of The Planet Prana Yoga & Meditation Podcast, I focus in on all things grounding and root connection to help us embrace our life, our habitat, and our home in the physical body and on this physical plane.
I'm devoting the next seven years to the study and magic of our energetic body through each Chakra. My personal sadhana through the Chakras began this summer with the Root Chakra.  My plan is to spend a year of personal exploration with each energy center. It feels right to begin my exploration at this center. It feels appropriate at this moment to get grounded and rooted by exploring specific existential questions like:  What does it means to be human? To be me? How do I fit in? Do I feel safe? Are my needs being met? Additionally, what vibration do I want to radiate into my community? Into the planet? To my fellow human tribe? To the the universe as a whole?
As human beings inhabiting the Earth, we should learn to embrace and explore the physicality of our nature.  We are radiant and boundless beings of light and vibration, housed in the physical form of the organic human body, on the physical plane of Planet Earth.  I'm inviting you to embrace and explore the physicality of our habitat, surroundings, and other organic matter and life we share our home with. We must embrace the daily gift of life, abundance, and magic of individual and shared experiences.  The art and science of yoga provides the tools as a vehicle toward realization of connectedness to ALL that exists. There is nothing more beautiful than a physical experience of that realization. WE ARE ALL CONNECTED! Trust me! Personally,  I'm literally moved to tears when I experience a glimpse of this reality in my practice or in daily life.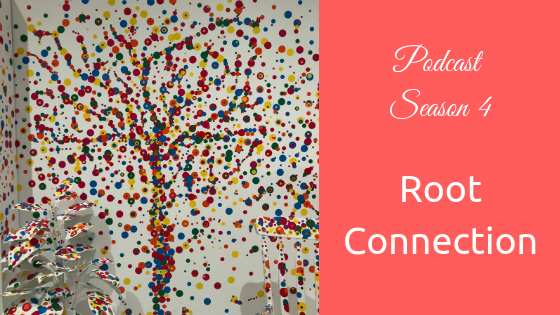 The Role of Art in my Life
I currently hold the privilege of teaching meditation at The Cleveland Museum of Art to the public and the staff.  In addition, I've recently transitioned into a full time position in Public and Academic Engagement at the museum. The CMA has played a huge role in my adult life of yoga and explorations. In addition to being my employer, it's a space of healing and reflection. It's opened my heart and mind to ideas and themes that matter to me and are important to explore as a human family.  Themes such as: What is beauty? How accessible and relevant are art museums as public spaces? Who is welcome in art museums and why? How can art bring us together to heal? How do art and art spaces reflect the communities in which they dwell? In my mind, art is connecting people and ideas in a way that transcends our differences.  I'd like to explore and connect some of these themes in the podcast and how they relate to the Chakras.
On a Personal Note
2018 has been a year of extreme highs and lows for me personally.  Lots of ungrounded and scattered uncertainty, followed by moments of clarity and deep connection.  I've experienced intense emotion this year illuminated by numerous diverse personal and collective experiences in and around Cleveland.  These emotions have been triggered by the celebration and ritual of live music concerts, family connections, work connections, art exhibitions, my yoga practice, and the physical trauma of my daughter who survived a terrible auto accident.  My personal experiences this year have lead me to pursue the theme of root connection this season, and my decision to dive into the study of the Chakras. This is how I operate through the lens of yoga.  I utilize my practice, my emotions, my experiences and intuition to guide me in life and learning. My yoga practice helps to shape my life and my life experiences shape my practice.  I use my practice to connect, grow, and heal.  It's all interwoven in the magical journey through the jungles of time and space.
I wrote this blog to give you a glimpse into my mind and emotions for 2018, and how it's shaped my thinking.  I invite you to join me on this journey of root connection, culture, life and humanity through the themes of the Root Chakra.  My intention is to work with the cycles of the moon and release an episode each full moon over the next several months of 2018 and into 2019.  As you listen to season 4 episodes, feel free to share your thoughts, feelings and experiences inspired by these themes. We have more to learn together from a journey of shared and collective experiences into our roots.
Many thanks for taking the time to read this update!
Peace, blessings, and Oms,
~Zen Jenn